Proper Eats Market & Cafe
Big Changes!!
Thank you to Friends of Trees for helping us replace our old, diseased sidewalk trees with native, site-appropriate young saplings! Portland Development Commission also helped us replace all of our doors and paint the building! We also installed beautiful outside lighting all the way around the building. Dinner al fresco, anyone? You might have noticed that the market and kitchen got a fresh coat of paint in February, and does it look great in here. We now have a beautiful blue sky feeling even on the darkest winter days. Thank you to our staff and loyal customers for helping us make it happen. It would not be possible without the support and love of this great community! Thank YOU!!!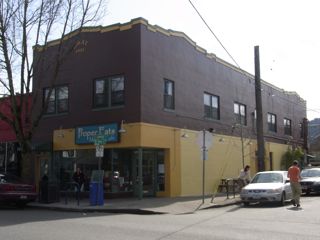 Our Mission
Proper Eats opened on May 13th, 2006 in the historic St. Johns business district. The market brings locally grown, organic products to the greater North Portland community. We feature fresh local produce, bulk items and a variety of juices, snacks, baked goods, environmentally safe cleaning products, and beer-- just to name a few. The cafe features vegetarian and vegan dining options for all ages, bringing a one-of-a-kind dining experience to Portland.
The anniversary of our opening coincided with the celebration of the annual St. Johns Parade and St. Johns Bizarre. We wanted to build a business in our community that positively serves the needs of North Portland residents while helping to strengthen the local economy!
We believe in the importance of supporting small, independent farmers, distributors, manufacturers and artisans, which are values that we believe are in sync with the St. Johns community spirit. We also believe in bringing the best quality food to our neighbors at a price that the average family can afford.
Proper Eats is open late and serves beer and wine, providing an alternative late night option for those in the neighborhood. Proper Eats is a gathering place for the community, hosting seed swaps and other events that promote healthy living, environmental stewardship and community development. We feature the original work of local artists and musicians in our dining room. Check out our music listings and come enjoy!